Experience The Path of Tea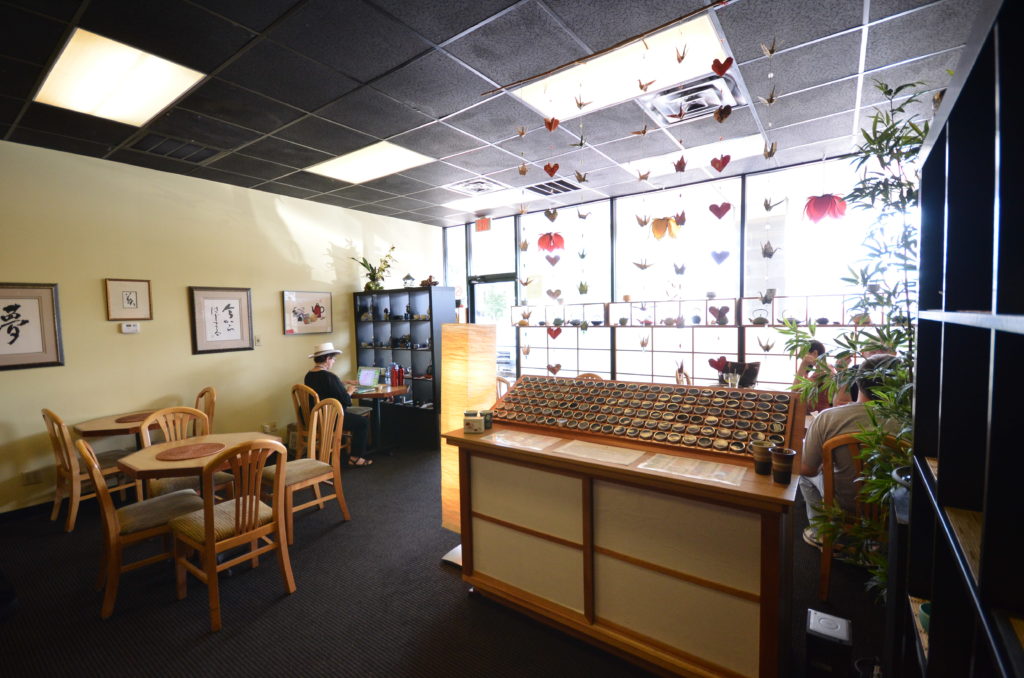 Since 2006, this Japanese styled tea shop has been the only totally organic Tea Shop in Houston. All of the teas are carefully crafted and selected seasonally to create a collection of over 125 certified organic and fair trade teas. Find your favorite brew during a tea tasting, learn about the health benefits in each cup, and warm your soul through the healing power of tea.
When you walk in the door at The Path of Tea, you will be transported to a tranquil little corner of Japan. Sounds of water trickling and Japanese flute music instantly calm your heart and mind.
If you know what you'd like to order, feel free to come up to the counter to order your tea. We offer small pots of tea, which are the perfect size for one person, or large pots of tea, which are perfect for sharing.  You're welcome to order a tea to go.  We will also serve any of our teas over ice, for those hot Texas summers. Regardless of what you order, we will steep your selected tea to perfection for you.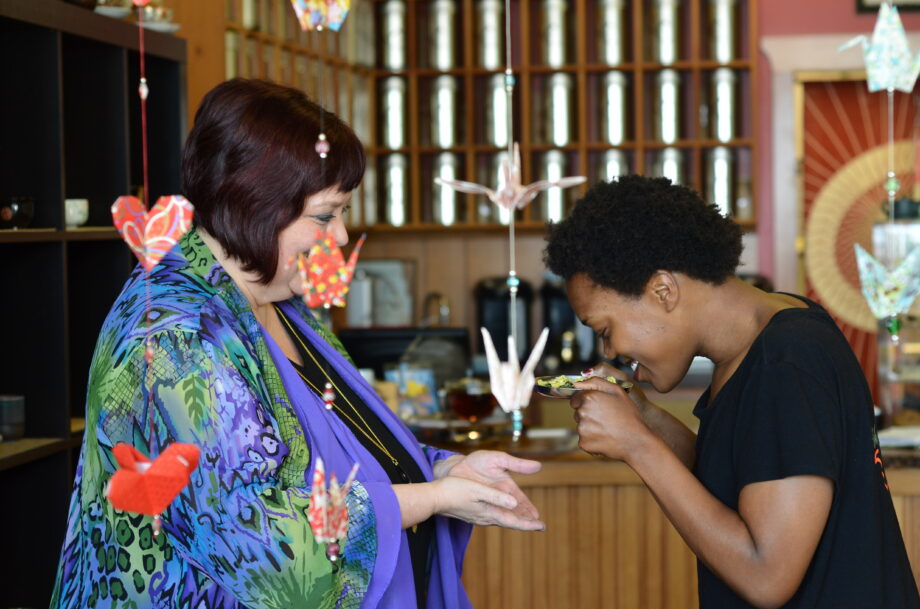 If you're not sure which tea you'd like to enjoy, feel free to ask questions or wander over to our Tea Sniffing Bar.
The experience of tea encompasses all the senses. Foremost is taste, but before we taste a tea, the aroma captivates us.
Our Tea Sniffing Bar, located in the middle of our shop, has samples of all of our organic, loose-leaf teas in small containers. You can see and smell the teas you're interested in, before ordering.
We source our organic teas from all over the world, including: Japan, China, India, South Africa, Taiwan and beyond. We carry favorites like English Breakfast, Earl Grey, Chamomile and Peppermint. But, don't limit yourself. Our extensive menu offers exotic delights such as: Ceremonial Matcha, Nishi Sencha Green, Bao Zhong Oolong and a customer favorite: Coconut Oolong.
From earthy to fruity, we have a tea that you will enjoy. So, come by and explore our teas, both familiar and exotic!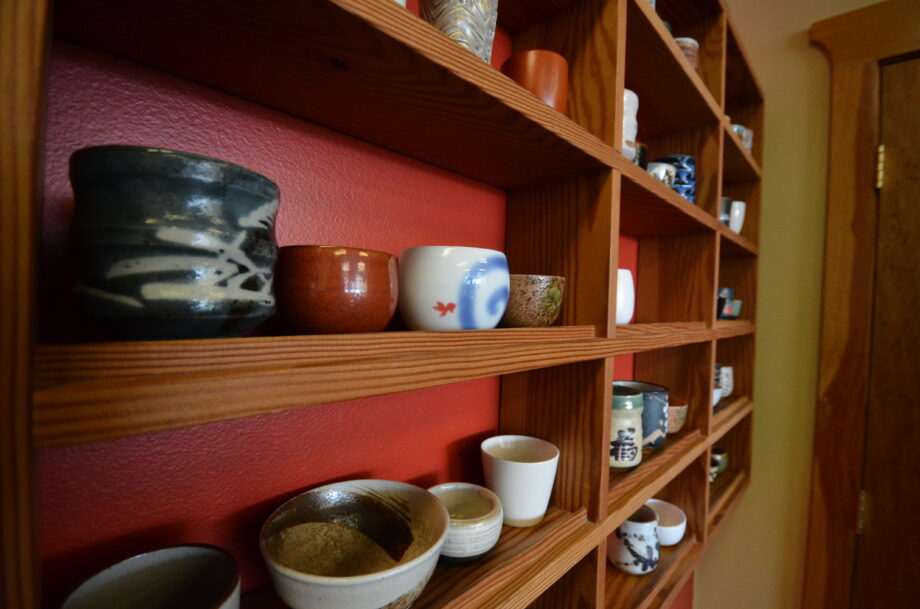 After ordering, the next step is to choose your own tea cup. Each cup is beautifully unique. Which one will you choose? All tea cups are sanitized, so please only touch the one you plan on using.
Did you know that, for optimal taste, different types of tea should be steeped at different temperatures, for different lengths of time? We will steep your chosen tea at the perfect temperature and steeping time for that tea. We also use alkaline water, to enhance taste and health benefits. Once it is ready, we will bring your tea to your table and pour your first cup for you.
When refilling your cup, be careful not to fill your cup too full, as our Japanese style cups don't have handles. If you fill your cup half-full, then you still have plenty of room to hold the cup comfortably.
As for refreshments to complement your beautiful tea, we have several treat options. If you'd like something of more substance, you are welcome to order food from our neighbor, The Field of Greens, and enjoy your lunch or dinner here at The Path of Tea.
We host a variety of events throughout the year, including Wednesday Night Tea Tastings, educational events and our Annual Tea Blending Championship, where the winning tea is added to our extensive menu.
So, come experience The Path of Tea. We know you will enjoy yourself.